Tile Flooring from FLOORS in Houston, TX
If you're looking for tile, FLOORS is your best bet. We have an unbeatable selection of tile for a wide range of applications and will install it as well. At FLOORS we have options for every price point and design in Houston, TX. Here at FLOORS, we have a large selection of porcelain, ceramic, and natural stone tile in a range of styles, colors, textures, and finishes, for anywhere inside or outside of your home in Houston, TX.

Our FLOORS team can help you find the tile that matches your needs, whether you are searching for a great value or a great design, interior flooring, outdoor spaces, showers, bathrooms, kitchen countertops, backsplash and even walls. Ceramic tile is one of the most durable flooring options available today.
Tile offers the benefits of luxury and customization and is complete with budget-friendly prices. Tile is incredibly low-maintenance and outlasts practically any other type of flooring. We offer a larger variety of tile, so you will have plenty of options to choose from to construct your unique tile design, right here in Houston. Another advantage of tile is that it offers simplistic maintenance and cleanup is a breeze.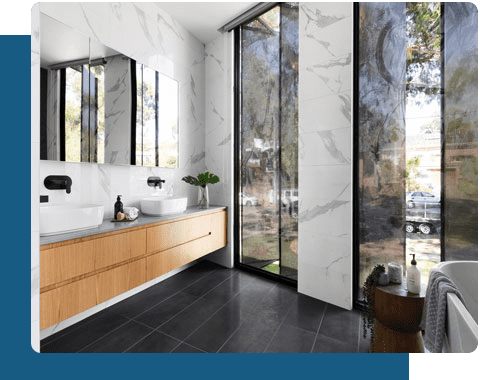 Low Maintenance
Cost Effective
Water Resistant
Eco-Friendly
Resale Value
The delicate beauty of porcelain tiles makes them a stand-out choice for flooring. Elegant and stylish, we have a range of porcelain tiles that will appeal to all tastes, in various patterns and colors. Our expert professional installers will leave you with a floor that is exquisite as can be, and one that is low maintenance, easy to clean, and long-lasting. Porcelain tiles are simply stunning when expertly laid, so talk to us right now and we'll be happy to help.
Affordable and beautiful ceramic tiles are a popular choice for flooring both indoors and out. Durable and rugged, we carry a great choice of ceramic floor tiles to suit all budgets and tastes. Our experienced team of flooring experts are here to help you find the right ceramic tiles for your floor, and we're always on hand for advice and information. Ceramic tiles are a cost-effective long life flooring solution that you will love, and we're here to talk to you about your ideal floor.
There are few flooring solutions that evoke nature more than natural stone tiles. Unique and rugged, durable, and also beautiful, the natural stone look is as much at home in a modern apartment as in an older home. Have your natural stone tiled floor installed by our experts and you are guaranteed a simply spectacular, timeless, and long-lived finish. We're always happy to help with any questions you might have about natural stone floors, so get in touch right now, and let's talk!
Contact us today to schedule a consultation and begin your journey towards beautiful new tile floors. Our flooring specialists proudly serve clients in Houston TX, Dallas TX, Austin TX, and surrounding communities. We look forward to providing an exceptional flooring installation experience for you or your business.
Quality Workmanship
Flooring Gallery
We like to think our work speaks for itself. See some completed flooring projects that our skilled installers have performed below.
Get in touch with us now for a Free Estimate!
After we get some information from you, we'll set up a time to discuss your project in further detail.